At $20,000 raised, we can extend our campaign! New Tank Tops
At $20,000 raised, we can extend our campaign! New Tank Tops
The love and support for Audio Bar continues to pour in, and with each step, we are closer to bringing you our vision for your enjoyment!  Over the weekend, thanks to every single one of you, we achieved our goal of covering the cost of our Bar Tap System!  Our next goal is to raise $6,000 toward our music memorabilia that will decorate our walls and commemorate your favorite EDM and Hip Hop musicians.
HUGE DEADLINE UPDATE: If we can raise $20,000 Total by this Thursday, May 24, we will be allowed to extend our campaign at least by another week!  That means if we can hit that mark, we will earn more days to raise even more toward our opening costs.
If you know anyone meaning to contribute, Or anyone who may be interested in any of our perks, please let them know to get on it before this Thursday, as this week is crucial.
New Perk Just Released: New Tank Tops!
Due to popular demand, we just released new men's and women's tank tops! Get your's now selecting it on our campaign page: click here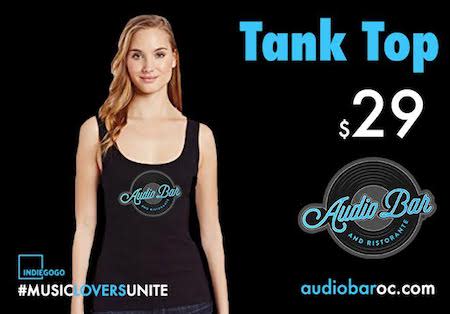 Video of these tank tops being made: (click here)
Help us get the word out and more contributions by sharing our page and content:
and we look forward to seeing you all at the finish line with us!
Thank you with much gratitude,
Vincent Do and Alex Mag (Audio Bar)
info@audiobaroc.com