First Financial Goal Achieved! All thanks to you
First Financial Goal Achieved! All thanks to you
#MusicLoversUnite Crowdfunding Campaign Link Here (click)
To all our backers or Audio Bar, we appreciate you so much!  Thanks to your contributions, we raised over $5,000 in the first two days of the campaign and can now acquire our build permits and licensing to build Audiobar OC as our first goal achieved!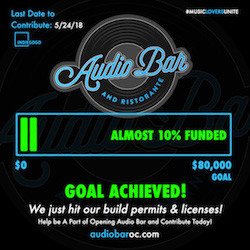 Our next goal is to raise the next $12,000 toward our Bar Tap System.  So far, with contributions on and off Indiegogo, we are at about almost $7000 total funded, meaning $2,000 of it is on the way toward our next goal!

We appreciate your excitement about this project.  Please consider showing it to anyone you feel may be very interested in this concept and would want to support it to open.
Sharable Links:
https://www.youtube.com/watch?v=x-jqbixYABE
(7:00 min campaign video with guest appearance by Coolio)
(37 second commercial)
instagram: @audiobaroc
Feedback Please
Also, we would love your feedback.  If you can please reply to this email and answer these three questions, we would love to hear your input:
1) Why did you contribute to Audio Bar?
2) Are there any perks you don't see in our offerings and what would you want to see as a perk?
3) And if we ran a referral contest where you can earn incentives/prizes for referring your friends, what kind of prizes would motivate you to help spread the word about Audio Bar?  These can be cash or anything else you can think of/suggest.
Thank you so much for supporting, and follow our progress here:
https://IGG.ME/AT/AUDIOBAR
#musicloversunite
– Vincent Do
Audio Bar, Project Leader
vince@audiobaroc.com
Feel Free and email me directly anytime if you'd like